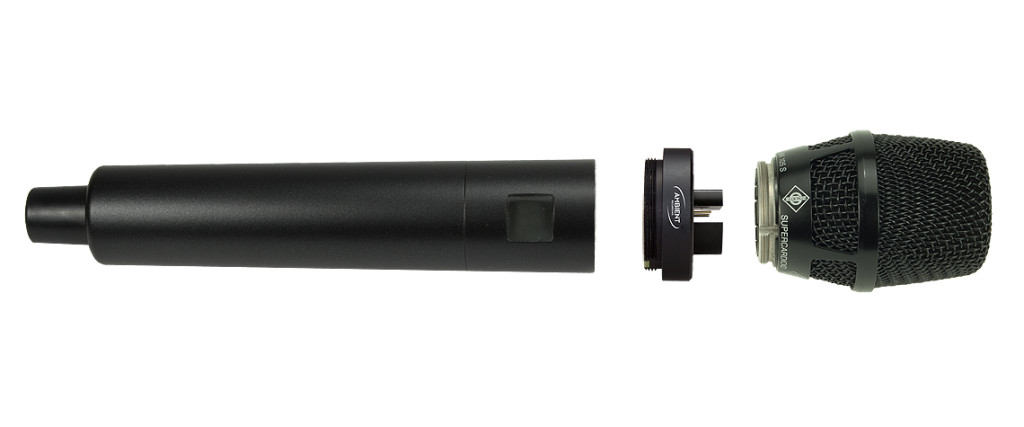 You can refer to this table to find out whether a specific handheld/microphone combination will work with one of our adapters.
Note that not all possible combinations are listed here because it is literally impossible for us to keep track of every single transmitter or capsule that is released to the market.
In general you can expect any mechanically compatible combination to work. There are only very few specific matches that do not work, e.g. you can't drive a KK204 capsule on a Shure UR2 because of the high current demand, but it will work on a ADX2 on the other hand.
If you are in doubt if your desired match does work, feel free to contact us for further information.
Cross-Reference Table Microphone Heads/ Adapters/ Wireless Systems
HHA II

Microphone Heads

Handheld Transmitter

Neumann®
KK104S
Lectrosonics®
HH
KK105-HD
Dhu
KK105S
Sennheiser®
MD5235
ME5002
ME5004
ME5005
ME5005-E
ME5009
HHA II-S

Microphone Heads

Handheld Transmitter

Neumann®
KK104S
Sony®
DWZ-M
KK105-HD
DWM-02
KK105S
UTX-M40
Sennheiser®
MD5235
Shure®
AD2
ME5002
ADX2
ME5004
ADX2FD
ME5005
AXT200
ME5005-E
PG2
ME5009
PGX2
QLXD2
SLX2
SLXD2
ULX2
ULXD2
UR2
Electro-Voice®
HHT
HHA-SHS

Microphone Heads

Handheld Transmitter

Shure®
Beta58A
Sennheiser®
SKM2000
Beta87A
SKM100 G3/G4
Beta87C
SKM300 G3/G4
KSM8
SKM500 G3/G4
KSM9
SKM6000
KSM9HS
SKM9000
PG58
EW-D SKM-S
SM58
SM86
SM87A
VP68
Electro-Voice®
RC2-767
RC2-967
RC2-PL80a
RC2-410
RC2-510
RE420-RC3
RE520-RC3
Heil Sound™
RC22
RC35
Telefunken
M80WH
M81WH
Lectrosonics
HHC
HHVMC
HHA-SS

Microphone Heads

Handheld Transmitter

Neumann®
KK104S
Sennheiser®
SKM2000
KK105-HD
SKM100 G3/G4
KK105S
SKM300 G3/G4
SKM500 G3/G4
Sennheiser®
MD5235
SKM6000
ME5002
SKM9000
ME5004
EW-D SKM-S
ME5005
ME5005-E
ME5009
HHA-SSH

Microphone Heads

Handheld Transmitter

Neumann®
KK205 *
Shure®
AD2 *
KK204 *
ADX2
ADX2FD
Sennheiser®
MD9235
AXT200
ME9002
PG2 *
ME9004
PGX2 *
ME9005
QLXD2
MM435
SLX2 *
MM445
SLXD2 *
MMD42-1
ULX2
MMD835BK
ULXD2
MMD845
UR2 *
MMD935
MMD945
Sony®
DWZ-M *
MME865
DWM-02
MMK965 *
UTX-M40
Lectrosonics®
HH
Dhu
* Note: Neumann KK204, KK205 and Sennheiser MMK965 capsules can not be powered on Shure AD2, PG2, PGX2, SLX2, SLXD2, UR2 and Sony DWZ-M handhelds